One of the good parts of having a new edition of a game is that you still have a lot of older edition material to draw on. One of the bad parts of that is having to figure out how to fit the older material into the new setting (which has probably changed some) and new system (ditto).
In that spirit, as the new edition of Torg has just been released and there's a dearth of material for it right now, I've taken to going through the original Torg books looking for ideas that would fit in Torg Eternity. Or in this case, I was working on an adventure and was looking for interesting monsters to use…
Tharkold, the realm of "techno-horror," has always been the red-headed stepchild of Torg's invaders. As detailed in the novels that were released with the original game, Tharkold had failed in an attack on another world just before trying to invade ours. Then their invasion of our world was foiled by the Russians, with help from a rival invader. Then after the game's metaplot had progressed for a couple of years, the cyber-demons of Tharkold finally touched down in Los Angeles, and later, Berlin. Whereupon they proceeded to do not much of anything.
But beyond the indelible stain of being losers, the cyber-demons also had the stink of trying too hard all over them. Tharkold was the home of sci-fi and alien horror that didn't fit into the Victorian-era realm of Orrorsh – think Terminator meets Hellraiser. It was a very early 90's sort of concept, the kind that was looked down upon by some segments of the hobby as "grimdark" or nihilistic. And it's pretty easy, I think, to dip into parody (which is deadly to instilling an actual aura of fear/horror) when you cover everything in chains and spikes and skulls and gore. Arguably the published material slipped into that space, or if not, it was at least a tonal mis-match compared to the other realms. And again, it's hard to see the demons as scary when they arrived in the game late, and after a long string of failures.
Anyway, all that is to say that while old Tharkold had some issues and, from what I've experienced in-game and online, wasn't well-liked, so far I like what Torg Eternity has done with the place. They've thrown post-nuclear apocalyptic themes into the mix, made the demons less failure-prone and a bit scarier individually, and gave the setting a bit more focus. But it still needs non-demon foes – there's no better way to make a monster not so scary than to let the players defeat lots of them – or rather, I needed some non-demon foes for a project. I found a couple that I liked, and once again I am sharing the conversions that I made of them here!
Converting monsters from original Torg to Torg Eternity, I've found, has some pitfalls. The old game had more attributes, more skills, and more complicated subsystems for areas like magic and spellcasting. Number values were higher across the board, and had a bigger range. Smushing the stats down into Torg Eternity form loses some nuance, but hopefully not in a significant way. And despite the above, most creatures' stats are rather boring, which is something I sought to correct. I'm a big devotee of 4th edition D&D's monster design ethos, where each creature has some mechanical bit that helps make it distinct from similar creatures. In any case, I hereby present some new monsters for Tharkold drawn from the original edition!
Flenser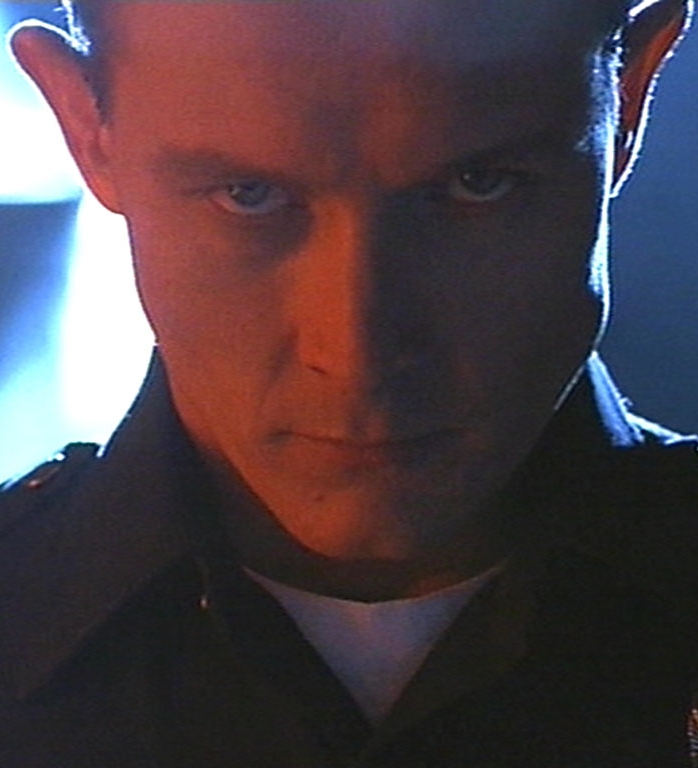 Don't really care for the name on this one, but I like the concept. Flensers are creatures made of nanobots infused with magic, that are designed to absorb living creatures, imitate their victim in order to infiltrate a community, and then they… well, the description doesn't say, exactly. But we can assume they cause havoc and murder and stuff. The name comes from what they leave behind after absorbing a victim's form and memories: the victim's intact skin (and also its hair and teeth). They were created by the cyber-demons to go after human colonies, but of course they went rogue, as murder machines are wont to do, and now attack whomever they please to.
That's their whole schtick, and the writeup doesn't really embrace the T-1000-ish potential of an autonomous blob of nanobots that is designed to imitate other creatures. As far as what they do with their abilities, I imagine that a flenser takes satisfaction from imitating humans (or whatever), and then having them betray, hurt, or kill their loved ones, and then moving on to a new identity in the community before it can be found out. It would seem to others as if people are getting possessed… and then their empty skin turns up! And then someone else starts acting evil…
Flenser
Cosm: Tharkold (Magic: 12, Social: 25, Spirit: 4, Tech: 25)
Attributes: Charisma 7, Dexterity 10, Mind 9, Spirit 7, Strength 12
Skills: Divination 13, dodge 12, find 10, intimidation 13, persuasion 9, stealth 13, taunt (12), trick 13, unarmed combat 14, willpower 11
Move: 10 (30); Tough: 12; Shock: -; Wounds: 2
Equipment: Nanobot injector (Strength +0/12, Armor Piercing 3, Grapple), nano-weapon (Strength +2/14)
Possibilities: Never
Special Abilities:
Absorb: When the flenser has an unsuspecting or helpless living victim whose form it wishes to assume, it creates two small injector needles from its current body and attacks. Treat this as a grapple attack. If the target is restrained and damage exceeds Toughness, the injectors start pumping the flenser's nanobots into the victim. The machines absorb and record the target's current state; this causes 1 Wound per round. After a few minutes have passed (depending on the target's size), the creature will have been completely consumed, save for its skin, hair, and teeth.
Assimilate: The flenser can assume the form of any creature it has absorbed, a process that takes about an hour. If the form is much larger than the flenser's current size, it can only take that form immediately after absorbing it. The flenser gains the target's recent memories and 1 add in any skill the victim was trained in. It can access deeper memories and more skill ranks with a divination test (the GM sets the difficulty for memories; for skill adds, see the copycat psionic power). Switching forms also switches memories and skills.
Highly Morphic Body: The flenser, despite its appearance, is really a blob of nano-machines. It is immune to extra damage from Called Shots as well as Shock damage. It can take an action on its turn to repair 1 Wound it has suffered. It can also create Strength+2 weapons out of its hands or limbs; use unarmed combat for attacking or defending with those weapons.
Supernatual Evil: Thanks to the occult energies that suffuse the flenser, it is affected by the ward enemy miracle and other effects that target supernatural evil.
Quon
The quon is another mechanical monstrosity, although this one is much more straightforward: it's a giant metal scorpion that will grab you and remove a big chunk of your body with its tail that's designed to extract core samples. Oh, and it's lightning-fast and regenerates. It's basically an autonomous tank that will rip your character to shreds instead of blowing you up from afar.
Given all the abilities that the quon has, I thought it was probably better represented as a Beta (β) level threat, which is to say it's best faced by Storm Knights with 50+ XP.
(β) Quon
Cosm: Tharkold (Magic: 12, Social: 25, Spirit: 4, Tech: 25)
Attributes: Charisma 3, Dexterity 8, Mind 5, Spirit 4, Strength 14
Skills: Dodge 13, find 10 (F), intimidation (15), maneuver 13 (F), taunt (15), trick (10), unarmed combat 14 (F), willpower 10
Move: 10 (30); Tough: 18 (4); Shock: -; Wounds: 3
Equipment: Tail (Strength +4/18, Armor Piercing 4), pincers (Strength +2/16)
Possibilities: Never
Special Abilities:
Armor: Interwoven metal-composite plating +4.
Dread: When this creature is present, any Standard Scene immediately becomes a Dramatic Scene instead.
Liquid Metal Blood: The quon can use a simple action on its turn to test Strength. On a Good or better result, it repairs 1 Wound.
Pincers: Strength +2/16. The quon will typically use its pincers to grapple a target.
Quick Axion System: Find, maneuver, unarmed combat, Active Defense, and Dexterity tests are all Favored.
Relentless: Ignores Shock damage, Fatigue.
Tail: Strength +4/18, Armor Piercing 4. The tail's "stinger" is designed to extract core samples, not hit moving targets. As such, it can only use this attack against a restrained (usually by its pincers) or helpless target, and unarmed combat is not Favored.
Very Large: +4 to be hit.